UNM Hospital remains closed after helicopter crash
By Tina Jensen Updated: Thursday, April 10, 2014, 12:04 am Published: Wednesday, April 9, 2014, 6:04 pm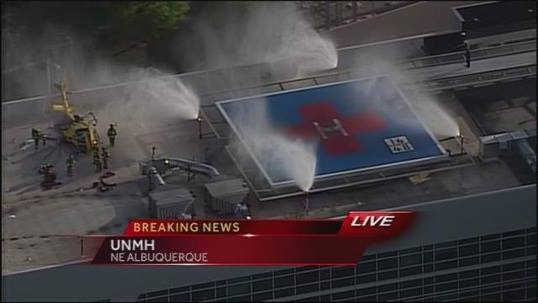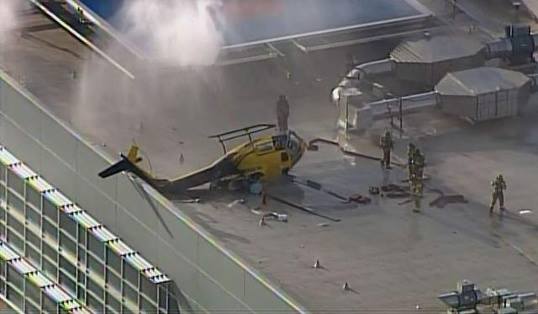 A pilot was injured but two passengers, and everyone else inside the hospital, are okay, according to a spokesperson for UNM Hospital.
UNM hospital officials say the crash happened just before 6 pm.
Sky News 13: Helicopter crashes on UNM Hospital
A PHI helicopter with a pilot and two passengers had just dropped off a patient.
Witnesses say moments after it took off from the helipad, it started to spin and teeter near the side of the building.
"I saw the helicopter just kind of take off and then it just started spinning sideways and almost hit the side of the building," said witness Stephanie Litten. "Then it kind of went up and crash landed almost on its side really hard."
Witnesses say they saw fire and debris fly up as soon as it crashed, followed by lots of black smoke and steam from the sprinkler systems.
The pilot has some injuries, UNM Hospital says the pilot is in good and stable condition Wednesday. The two passengers didn't have any injuries.
UNM Hospital says they did have to move some labor and delivery patients from the 5th and 6th floors because of structural concerns.
Wednesday night, the hospital's helipad was still out of commission and will likely stay that way until the FAA completes and on-site investigation.
That means all other emergency landings will be sent to the Sunport or nearby Johnson Field which is about three minutes from the Hospital and the hospital says they'll be ready for those patients.
All adult patients and pediatric trauma patients are now being accepted at the hospital. Other categories of pediatric patients are still being diverted to other hospitals.
UNM Hospital is requesting that there are no visitors Wednesday night. Patients with scheduled appointments and surgeries are advised to call their clinic Thursday morning.
Parts of Lomas near the hospital are still closed.
Source (avec vidéo):
http://krqe.com/2014/04/09/unm-hospital-remains-closed-after-helicopter-crash/